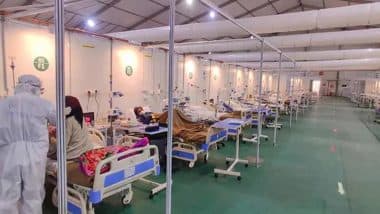 Covid Hospital (Photo credit: PTI)
New Delhi: The Delhi High Court on Monday directed the National Capital Region Hospitals to update the number of empty and filled beds every two hours. The court said it was not a difficult task to do. A bench of Justices Bipin Sanghi and Rekha Palli said the hospital should keep a true record of the number and number of vacant beds. It will not be difficult for them to provide relevant information to the Delhi government or its nodal officers.
"We have been instructed to provide new information every two hours," the bench said. After reviewing the report of Justice Friend and Senior Advocate Rajasekhara, the bench said that the hospitals were not providing information about empty and full beds in real time quoting manpower. The court said he did not accept the hospital's argument. On the issue of beds, senior advocate Rahul Mehra told the court that the number of beds provided by the centers in his hospital has been increased from 3,6611 to 4,099. Read more: Oxygen Crisis: Delhi HC Says Oxygen Crisis in Capital: People Are Being Killed, Center Can Resolve Crisis
He said the center provided about the same number of beds last year, although the number of patients was four times lower than current patients. Mehra claims that the central government hospital has hundreds of beds that are not being used. The court then directed the Center to investigate the matter raised by the Delhi government and provide information to the bench as per the category of beds allotted to Delhi.
(This is a monitored and auto-generated story from a syndicated news feed, most likely not modified or edited by recent staff)