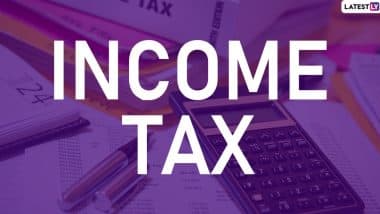 Income Tax (Phil Photo)
New Delhi: On Thursday, the government extended the deadline for filing personal income tax returns by two months to 30 September 2021 between 2020-21. At the same time, the Central Board of Direct Taxes (CBDT) has extended the deadline for filing income tax returns for companies by one month to November 30. According to the Income Tax Act, the deadline for those whose accounts are not required to be audited and who normally file income tax returns using ITR-1 (ITR-1) or ITR-4 (ITR-4) is July 31. At the same time, the deadline for taxpayers whose accounts need to be monitored, such as agencies or firms, is October 31.
The CBDT said in a statement that the deadline for compliance with some taxes has been extended with the intention of providing relief to the taxpayers in view of the crisis caused by the Corona virus epidemic. Also, the deadline for employers to give 16 forms to employees has been extended by one month to July 2015. Read more: Income Tax Department to launch new e-filing portal Invatex.gov.in for taxpayers on June 2
The due date for submission of tax audit report and transfer price certificate has been extended by one month to 31st October and 30th November respectively. Delayed or revised income tax returns can now be filed by January 31, 2022. According to the CBDT, the deadline for financial institutions to submit financial transaction statement (SFT) reports has been extended from 31 May 2021 to 30 June, the CBDT said.
Shailesh Kumar, LLP partner at Nangia & Company, said extending the deadline for income tax returns would give taxpayers some relief in complying with the tax rules.
Kumar, however, said, "Taxpayers who do not pay their full income tax liability through TDS (tax exemption at source) and there is a difference of more than Rs one lakh in tax liability should be subject to income tax to avoid interest charges under Act 244A, as prescribed." You should try to file your ITR by the date 1% fee is charged per month till you file your ITR after the original due date.
(This is a monitored and auto-generated story from a syndicated news feed, most likely not modified or edited by the latest staff)