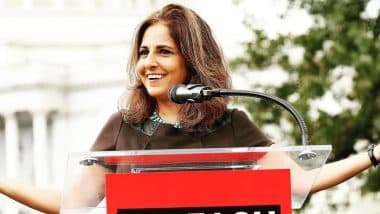 Nira Tandon (Photo credit: Instagram)
Washington, May 15: Indian-American Nira Tandon has been appointed senior adviser to US President Joe Biden. Tandon withdrew his nomination to the post of director of the White House Management and Budget Office two months ago due to strong opposition from Republican senators. Tendon, 50, will take charge of the White House from Monday. Tandon is currently president and chief executive officer of the Center for American Progress (CAP). "Neera's intelligence, theory and political understanding will prove to be the capital of the Beadon administration," said Padesta, Capesta's founder and director.
Tandon was previously a senior adviser on health reform at the U.S. Department of Health and Human Services. He worked closely with Congress and partners on a number of special provisions of the Affordable Care Act during the presidency of former United States President Barack Obama. Previously, he was the domestic policy director of the Obama-Biden presidential campaign, where he handled all domestic policy proposals. Read more: America: People receiving both doses of the anti-Covid-19 vaccine in America do not need to wear masks
He also served as the country's director of presidential campaign policy for former Secretary of State Hillary Clinton. She began her career as Assistant Director of Domestic Policy at the White House and First Lady Senior Policy Adviser during the tenure of former U.S. President Bill Clinton. Tandon holds a BSc from the University of California and a law degree from Yale Law School.