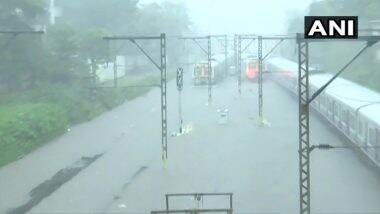 Heavy rains in Mumbai (Photo credit: ANI)
Mumbai, June 9: The Indian Meteorological Department on Wednesday announced the onset of southwest monsoon in Mumbai, with heavy rains in the country's financial capital and its suburbs in the morning. Waterlogging has been reported in some low lying areas. However, local train services were not affected when some of the best buses were diverted. Dr. Jayant Sarkar, head of the Mumbai office of the Indian Meteorological Department (IMD), said, "The monsoon has hit Mumbai hard today." There is a possibility of higher waves. Heavy rains lashed several places in the city and suburbs in the morning.
According to IMD, the Colaba Observatory, which represents South Mumbai, recorded 77.4 mm of rainfall in the last 24 hours and the Santa Cruz Observatory (suburbs) recorded 59.6 mm. Rain was recorded. The city, in the eastern suburbs and the western suburbs, received 48.49 mm in 24 hours from 8 a.m. on Wednesday, BMC said. 66.99 mm and 47.99 mm were recorded. Rain was recorded. Read more: Madhya Pradesh: 3 killed in collision with bike truck of people returning from Betul's birthday celebrations
According to a BMC official, 4.116 meter high waves could rise at 11.43 am. The IMD has forecast partly cloudy skies with moderate rainfall in Mumbai and suburbs. There is a possibility of heavy to very heavy rain somewhere. "It is raining in Mumbai but trains are running," said Shivaji Sutar, chief spokesperson of Central Railway. The IMD on Saturday confirmed the onset of southwest monsoon in Maharashtra. The monsoon reached Harnai in the coastal Ratnagiri district, but despite favorable conditions, the monsoon seems to be moving at a slow pace.