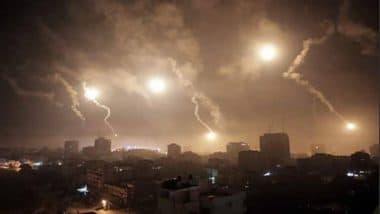 Symbolic image (Photo credit: Twitter @AhmedJenena2)
New Delhi: The 11-day conflict between Israel and Hamas in Gaza began this morning. Israel's security cabinet has approved a ceasefire in the Gaza Strip. With that, the worst war in decades is coming to an end. The Israeli Defense Cabinet said the mediating Egyptian initiative was unanimous in favor of a bilateral and unconditional ceasefire. Israel-Palestine conflict: India more committed to reducing Israeli-Palestinian conflict at Congress' request
The move comes a day after Israeli Prime Minister Benjamin Netanyahu and US President Joe Biden called for an end to fighting in Egypt, Qatar and the United Nations. A Hamas official told the media that the ceasefire had ended by mutual consent.
The ceasefire brings opportunities for progress on both sides – Biden
In the context of the ceasefire, Joe Biden said that the ceasefire has brought opportunities for progress on both sides. He said the United States is committed to working with the United Nations and we are committed to working with the United Nations and other stakeholders to provide rapid humanitarian assistance, as well as efforts to gain international support for the people of Gaza and the reconstruction of Gaza.
Antonio Guterres praised Egypt and Qatar
Regarding this initiative, UN Secretary General Antonio Guterres said that after 11 days of deadly hostilities, I welcome the ceasefire between Gaza and Israel. "I extend my deepest condolences to the victims and their families," he said. At the same time, he praised Egypt and Qatar, which have helped bring peace to Gaza and Israel.
Health officials in Gaza say more than 1,900 airstrikes have been carried out in the fighting since May 10. Among them, 240 Palestinians were killed, including five children and 39 women. Officials say 12 people have died in Israel. Hundreds of people injured in the rocket attack are being treated.
When did the debate begin?
Fighting broke out between Israel and Hamas when Hamas fired long-range rockets into Jerusalem. Earlier, Palestinian protesters clashed with Israeli police at the Al-Aqsa Mosque. In the wake of the rocket attacks, Israel carried out hundreds of airstrikes targeting Hamas. Hamas is said to have fired thousands of rockets at Israel in the war. More than 240 people were killed and huge destruction was reported in the fighting.