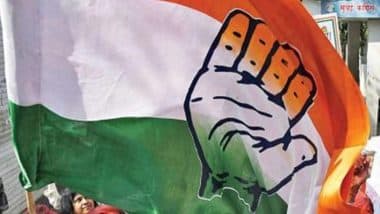 Congress (Photo credit: PTI)
New Delhi: Amid the ongoing violent fighting between Israel and the Palestinian Authority Hamas, Congress on Wednesday said India should be more committed to using India's role as a member of the UN Security Council in establishing peace in West Asia. The main opposition party said in a statement that "both sides should abandon the path of violence and negotiate for peace because there is no other way for meaningful, peaceful coexistence between Israel and Palestine."
The Congress expressed satisfaction over the balanced approach shown by the Government of India in this regard and requested that India should be more committed while playing its role as a member of the UN Security Council in order to establish peace in West Asia. He said the conflict between Israel and Palestine seems to have escalated and the number of casualties is increasing every hour. Read more: Israel-Palestine conflict: US President Joe Biden has backed a "ceasefire" during a phone conversation with Israeli Prime Minister Benjamin Netanyahu.
According to the Congress, India's historical position should be to resolve the existence of two countries as Israel and Palestine and East Jerusalem as the capital of independent Palestine. At this point, this attitude needs to be emphasized. "It is unfortunate that Israeli security forces entered the holy Al-Aqsa Mosque during prayers in the month of Ramadan, after which peace in the area was disrupted," he said. The Congress added, "The rocket attacks carried out by Hamas cannot be accepted and at the same time it is unacceptable to take large-scale retaliation from a more powerful and organized army, especially when civilian casualties, including women and children, occur."
Meanwhile, Congress Lok Sabha member Abdul Khaliq from Barpeta, Assam, wrote a letter to Prime Minister Narendra Modi on Wednesday urging him to raise Palestinian concerns on the international stage. "India should stand up for the Palestinian people and say what we have been doing year after year. I urge you to use your status and speak out on Palestinian concerns at the international level," he said.
(This is a monitored and automatically generated story from a syndicated news feed, most likely not modified or edited by the latest staff)