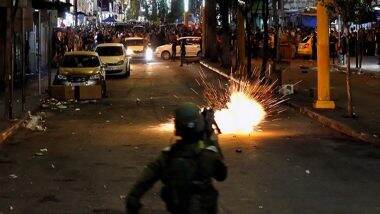 Israel-Palestine Conflict (Photo Credit: ANI)
Israel-Palestine conflict: The Israeli-Palestinian conflict is escalating. There have been dozens of explosions in southern and central Israel. The Israeli Times reports that the health ministry, run by the Hamas group, says Israeli airstrikes in Gaza have killed 32 Palestinians and wounded 220 since the war began. A woman from Kerala (Kerala) working in Israel was allegedly killed in a Palestinian rocket attack on Tuesday. Her family members provided this information. She said the rocket landed at the home of a 31-year-old gentleman in Ashkelon town while talking to her husband Santosh in a video call in Kerala in the evening. Santosh's brother Saji said, 'My brother listened loudly during the video call. Suddenly the phone became disconnected. We then immediately contacted the other Malays working there. This is how we learn about the phenomenon. Read more – Israel sends second shipment of medical supplies to India, which is suffering from an epidemic.
The Israeli air force has also responded to the Hamas attack. It has attacked the occupied Gaza Strip. Palestinian militants attacked Ashkelon on the border with the Gaza Strip. Gaza extremists have fired hundreds of rockets into Israel since Monday evening, and at least 32 people have been killed in violence since Tuesday night. Israel has carried out hundreds of airstrikes in the Gaza Strip targeting Hamas and Islamic Jihad.
An Indian woman killed in an attack by Palestinian militants has been living in Israel for the past seven years and her husband has a nine-year-old son living in Kerala. Ashkelon Mayor Tomar Glam says about 25 percent of residents do not have a chance to get to a safe place if a rocket attack occurs.
ANI's tweet
Indian woman killed in Gaza rocket attack on Israel

Read on UNI Story | https://t.co/xR1DrL1PKT pic.twitter.com/BqlPWQpV2g

– ANI Digital (@ legal_digital) May 11, 2121
"When an emergency is created in the minutes of normal life, it becomes impossible to reach a safe place," he said. On Tuesday, Ron Malka, Israel's ambassador to India, tweeted, "I extend my deepest condolences to the bereaved family of Israel who died in the Hamas terrorist attack on innocent people."
Clashes broke out between Palestinian and Israeli security forces hours before the rocket and air strikes at night. The clashes also took place on the grounds of the Al-Aqsa Mosque in Jerusalem, which is considered sacred by both Jews and Muslims. Among the signs of growing unrest, hundreds of people from the Arab community protested in Israel, condemning the recent crackdown by Israeli forces against Palestine. It is believed to be the largest demonstration of Palestinian citizens in Israel in recent years.
An Islamic militant group called Hamas has fought three wars in search of Israel and the destruction of Israel, and has faced numerous conflicts since the terrorist group took control of Gaza in 2007-2007. The inter-border conflict between Hamas, which previously ruled Israel and Gaza, ended a few days later, often behind the scenes, mediated by Qatar, Egypt and other countries.
An Egyptian official has confirmed that his country is seeking a ceasefire. Discussing sensitive diplomacy, the official, speaking on condition of anonymity, said the Israeli regime in Jerusalem had further complicated the effort. A Palestinian security official also confirmed the ceasefire on condition of anonymity.
Israeli Prime Minister Benjamin Netanyahu warned on Monday that the fighting could continue for some time. Israeli army spokesman Lt. Col. Jonathan Conricus told reporters Tuesday that the military was in the early stages of targeting Gaza. A plan to target these targets was developed long ago. Israel has targeted dozens of high-rise buildings and carried out dozens of airstrikes. These tensions and conflicts are taking place at a time when there is a situation of political instability in Israel. Netanyahu is now the caretaker Prime Minister.
Language input