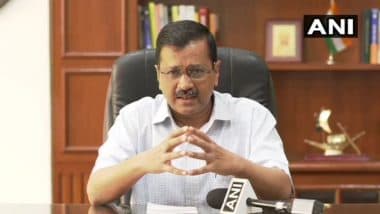 CM Arvind Kejriwal (Photo credit: ANI)
Delhi Chief Minister Arvind Kejriwal on Tuesday said that we now have a few days of vaccines and the problem across the country is today, only two companies are making vaccines and both together make 6-7 crore vaccines a month. Thus, it will take us more than two years to vaccinate every person in the country. He said no more waves of corona have come yet. In such a situation, there is a need to increase the production of vaccines on a war footing and prepare a national plan for the implementation of vaccines for all. He said that this war cannot be won unless every Indian feels vaccinated. I would like to give a suggestion today. Don't just create two companies to make vaccines, many companies should be hired to make vaccines. Read more: Delhi: AAP-BJP's 'politics' in tax department, Manish Sisodia blames Center and Abed Gupta blames Delhi government.
He said the central government should take the vaccine formula from these two agencies and give it to all those who can make the vaccine safely. A portion of the profits of vaccine manufacturing companies could be paid as royalties to both companies that discovered the original formula.
ANI's tweet
Not just 2, several agencies should be deployed to make the vaccine. Vaccine production formulas should be collected from these 2 agencies of the Center and given to all companies that can produce vaccines safely. The Center has the power to do this at this difficult time: the Chief Minister of Delhi

– ANI (@ANI) May 11, 2121
Earlier, he said that we are administering 1.25 lakh doses of vaccine every day and soon we will start vaccinating more than 3 lakh people. Our goal is to vaccinate all Delhiis in the next three months, but there is a shortage of vaccines.
CM Kejriwal said that corona cases are declining in Delhi, the lockdown was successful with the cooperation of all of you. We've raised a lot of oxygen beds in the last few days. There is no shortage of ICUs and oxygen beds in Delhi now.