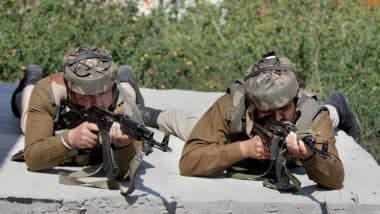 Symbolic image (Photo credit: ANI)
Srinagar: Jammu and Kashmir (Jammu and Kashmir) DGP Dilbag Singh (Dilbag Singh) Martyr (martyrTk 2.40 crore has been sanctioned as special welfare relief for the relatives of police personnel. Officials said this on Saturday. Police said that Director General of Police Dilbagh Singh has released Rs 2.40 crore as special welfare relief for the relatives of the slain / martyred police personnel in a continuation of efforts to help the families of the slain policemen. . Jammu and Kashmir: Clashes between security forces and terrorists in Warpora area of ​​Sopore
Dependent / Legal Heirs of the following slain / martyred policemen – Jamil Ahmed Lone, Rasul, Mohammad Shafi, HC Ejaz Ahmed, Inderjit Singh, Dabidar Kumar, Mohammad Yusuf Bajd, Suhel Mushtaq Lohar, Ramiz Raja, Amjad Hussain, police said in a statement. And Ashok Kumar has been granted special welfare relief of Rs 20 lakh each.
In addition, one lakh rupees has been given to the family as an immediate relief for the funeral of the deceased officers. Financial assistance has been provided from the Contributing Police Welfare Fund.
On Thursday, the Director General of Police of Jammu and Kashmir visited several areas in Kulgam district of south Kashmir to review security arrangements. He then said that during the review meeting, special attention was given to intensifying the anti-militancy campaign in South Kashmir. At the same time, the security forces are ready for all kinds of situations.