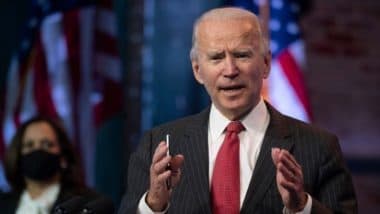 Biden (Photo credit: Getty Images)
Before the ceasefire took effect, Netanyahu told Biden that the war between Israel and Hamas was coming to an end, but Biden feared that the situation would change at any stage as there was still time to implement the ceasefire. In this situation, White House aides contacted Israel and Egypt by phone to see if the ceasefire would work. An official familiar with the talks said US and Israeli officials were concerned that a rocket-propelled rocket fired by Hamas could reach an agreement in Egypt.
Netanyahu then called Biden again. This was his second phone call to Biden in a few hours. Netanyahu has reassured Bidan that the war is about to end. With that, the first foreign policy crisis since Biden became president came to an end. He tackled the crisis from behind the scenes. The White House said that during this time, Biden and his senior aides communicated 80 times by phone or in person to stop the fighting.
Also read- Foreign News. Israel and Hamas have agreed to a ceasefire, President Joe Biden has praised
Biden then appeared in front of the White House's 'Cross Hall' camera to discuss high-level talks with the United States, Egypt, the Palestinian Authority and other West Asian countries. In his three-and-a-half-minute speech in celebration of the ceasefire, Biden reiterated that Israel has the right to defend itself. He expressed his condolences to the Palestinian civilians killed in the Israeli bombing and pledged to provide humanitarian assistance to the Gaza Strip.
Biden said the death toll could have been higher in the United States had it not been for the "Iron Dome", an advanced missile defense system. The 11-day conflict is the deadliest since the 2014 Gaza war, which killed more than 240 people, wreaked havoc in the Gaza Strip and threatened to destabilize the already volatile region.
Also read- Foreign News. U.S. MP Biden appealed for help in delivering the anti-covid vaccine
The ceasefire came into effect on Friday after pressure from the United States, Egypt and other international mediators to end the violence. A statement from Prime Minister Benjamin Netanyahu's office said late on Thursday that the Security Council had unanimously agreed to end "mutual and unconditional" hostilities.
(This is a monitored and automatically generated story from a syndicated news feed, most likely not modified or edited by the latest staff)