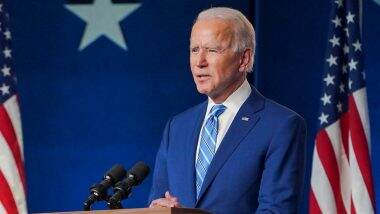 Joe Biden (Photo credit: Twitter)
Washington, May 27: US President Joe Biden on Wednesday announced the nomination of Indian-American Arun Venkataraman as his chief of staff for foreign trade services. The White House says Venkataraman has been named director general of the United States and foreign trade services and has been named additional minister of global markets in the Commerce Department. With more than 20 years of experience in international trade, Venkataraman is currently an advisor to the Ministry of Commerce, advising the Ministry of Commerce and other international economic affairs.
Prior to joining the Biden-Harris administration, he was senior director of Visa, the most international government action strategy on a wide range of international policy issues, including the digital economy, trade, taxes and sanctions. Venkataraman was previously a trade and investment policy advisor at Stato & Johnson LLP. The White House said that while former President Barack Obama was the first policy director of the International Trade Administration at the Ministry of Commerce, Venkataraman spoke of the U.S. government's response to the criticism and tough challenges companies and countries face. Helped to give direction.
Read more: Joe Biden presses behind closed doors to end ceasefire between Israel and Hamas
While serving in the US Trade Representative Office (USTR), he led the development and implementation of the US-India trade policy as India's director, for which he received the Agency's Kali Award for Outstanding Performance and Outstanding Leadership. Prior to joining the USTR, Venkataraman was a lawyer at the World Trade Organization (WTO).
(This is a monitored and auto-generated story from a syndicated news feed, most likely not modified or edited by the latest staff)