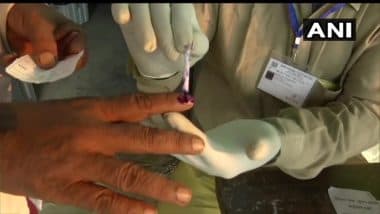 Vote / Vote (Photo credit: ANI)
Islamabad, June 10: On Thursday, the top election official in Pakistan-occupied Kashmir announced the July 25 assembly elections. However, the election was being postponed for two months due to fears of re-emergence of the coronavirus. Pakistan held assembly elections in Gilgit-Baltistan last year. India criticized Pakistan for its decision to hold elections in Gilgit-Baltistan and said there was no legal basis for any move to change the situation in the military-occupied region. India has made it clear to Pakistan that the Union Territories of Jammu and Kashmir and Ladakh, including Gilgit and Baltistan, are an integral part of the country.
Chief Election Commissioner Justice (retd) Abdul Rashid Sulehria announced the election schedule at a press conference in Muzaffarabad, the capital of Pakistan-occupied Kashmir (POK). "The people of Kashmir (November 25) will exercise their voting right for good governance," Suleharia, head of the Election Commission, told POK. He said the candidates would be able to submit their nomination papers by June 21 and the final list would be issued on July 3. According to ARY News, the assembly will hold elections to elect 45 representatives, including 33 in POK and 12 for Kashmiri migrants. Suleharia said, "Four constituencies have been increased in this election."
Read more – Video: Pakistan's close female leader Prime Minister Imran Khan slaps opposition MP on live TV show, video goes viral
During the polls, paramilitary forces and police will be deployed alongside the civilian administration to enable more than 2.6 million eligible voters to exercise their voting right. Earlier, the National Command and Operations Center (NCOC) had requested the PO to postpone the polls by two months due to threats to re-spread the Karna virus infection, but opposition parties refused. The last general election to the POK assembly was held in July 2016 and was won by the Pakistan Muslim League-Nawaz, led by former Prime Minister Nawaz Sharif.
(This is a monitored and automatically generated story from a syndicated news feed, probably not edited or edited by the latest staff)