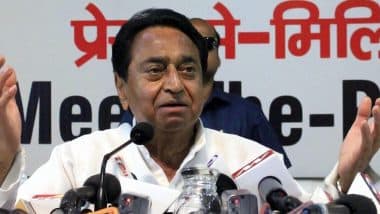 Kamal Nath (Photo credit: IANS)
Maihar (MP), May 21: Just days after an FIR was lodged alleging public panic over a statement about the corona virus, Madhya Pradesh Congress president and former state chief minister Kamal Nath again hit the state government on Friday for killing Kovid-19. Accused of concealing original figures. Speaking to media in Maihar, Kamal Nath said, "Today, in this corona epidemic, work is being done to suppress and hide data in Madhya Pradesh." MP: Kamal Nath said – my India is not great, notorious country, CM Shivraj's counter – has lost his mental balance.
He said, "I have said before that the bodies of 1.22 lakh people have reached the Muktijoddha-graveyard in this second wave of Corona. Percentage was the victim of corona.
"At the same time, the government's figures are still in the thousands," Kamal Nath said. However, according to a bulletin released by the Madhya Pradesh Health Department on Friday, the number of deaths due to Kovid-19 in the state so far is only 7,891.
He said, "I am called a traitor when I make this claim and if you ask them questions, they say they are doing politics with corpses. An FIR is lodged against me when I tell the truth."
He said, "I have never said that the name Kovid is an alternative to the Indian Kovid. Many countries in the world are saying this today. In the Supreme Court, the central government has written it in its affidavit. There is evidence of this.
Aiming at the central government, he said, "India could not grow in the world because of the Modi government, but the country has become infamous today because of their policies, negligence and neglect in the world."
Describing his remarks as "extremely unfortunate", Madhya Pradesh Chief Minister Shivraj Singh Chouhan said that Kamal Nath seemed to have lost his mental balance after coming to power in the state.
Reacting to Kamal Nath's remarks, Chief Minister Shivraj Singh Chouhan tweeted, "Kamal Nath seems to have lost his mental balance after coming to power." The Madhya Pradesh president of the Congress says India is notorious. (Congress President) Does Sonia Gandhi agree with Kamal Nath's statement? Doesn't Congress feel ashamed and ashamed? "
He said, "Hey Kamal Nath, Madam Sonia Gandhi, India is a very ancient and great nation. The whole world has sung its glorious story. Kamal Nath was born in this world and today he says that India is infamous.
Chauhan said, "Don't call your country infamous, not betrayal of the country?"
He appealed to Sonia to break the silence and demanded Kamal Nath's statement to expel her from the party.
(This is a monitored and auto-generated story from a syndicated news feed, most likely not modified or edited by the latest staff)