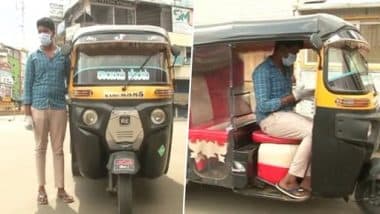 Akash Denur (Photo credit: ANI)
The country is battling the second deadliest wave of COVID-19, leaving people facing a shortage of the necessary services. In such a situation, many citizens are extending a helping hand to the needy people in times of crisis. Amid growing infections and COVID restrictions, an auto driver in Kalaburgi, Karnataka, is helping patients who cannot book an ambulance for free. The lockdown situation in the state has made it difficult for patients to use public transport, they are facing obstacles in booking ambulances, but this autorickshaw driver named Akash Denur has become a source of hope for people in times of crisis. Happiness.
Regarding his selfless service, Denur said, 'His dream was to serve India as an army soldier, but it did not happen, so he decided to serve the people in this epidemic. Talking to ANI, he said, "There is a lack of facilities due to the lockdown, whether it is an ambulance or an auto. That is why I am providing free service. I pick the patients and leave them in the hospital.
View tweets:
Karnataka | Akash, an autorickshaw driver from Kalaburgi, provides free services to patients with Covid in Denur. He said, "There is a lack of facilities due to the lockdown, be it ambulance or auto. That is why I am providing free services. I select the patients and take them to the hospital" (15.05). pic.twitter.com/eiouzLFJBG

– ANI (@ANI) May 16, 2121
Akash Denur said, 'People in need can call him and he will reach their door. The auto driver said he had been doing it for the past few days. He added that when people are suffering in this crisis, they can at least do a lot of it. Karnataka has recently surpassed Maharashtra in the most active COVID-19 cases.