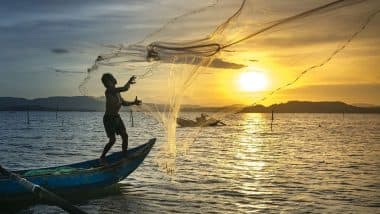 Fisherman replicant photo (Photo credit: Pixab)
Mangalore: Indian Coast Guard (ICGS) personnel have rescued 10 fishermen from a boat stranded on a ship in Mangalore, Karnataka. The Coast Guard said in a press release on Thursday. The fishermen's boat was stuck about 20 nautical miles from the beach. Read more: More than 300 babies born in Orissa cyclone Yas, many parents name newborn Yas
Among the rescued fishermen, seven are from Tamil Nadu and three are from Kerala. The fishermen identified Stephen (45), Napoleon (60), Lord (36), Saji (41), Razi (38), Sagarji (50), George Bush (50), Crispin (36), Sajan (226) and Donna (38).
Fishermen's boat 'Lord of the Seas' got stuck in the sea due to engine failure.
The fishermen reported the boat failure to the Coast Guard's Marine Rescue Sub-Coordination Center (MRSC) through the VHF. Read more: Impact of cyclone Yas: Heavy rains expected in 25 districts of eastern Uttar Pradesh
The Coastguard's C-448 was patrolling the seas at the time. He was sent for immediate help. In addition, ICGS ambassador ships have also been deployed in the rescue operation.
(This is a monitored and auto-generated story from a syndicated news feed, most likely not modified or edited by the latest staff)