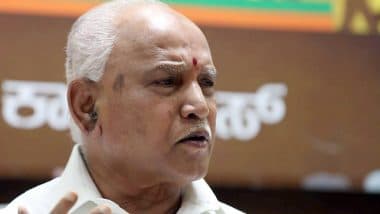 BS Yeddyurappa's father (Photo credit: IANS)
Bangalore, June 2: The lockdown in Karnataka, which ended in June, was extended to June 14, and Chief Minister BS Yeddyurappa on Thursday announced a second relief package of Rs 500 crore. The relief is for those departments which were left out of Rs 1,250 crore in the previous package. To curb the spread of Kovid-19, Chief Minister Yeddyurappa announced an extension of the lockdown within a week by June 14.
"We had earlier announced strict restrictions on the spread of coronavirus from May 24 to June 7. Although the infection has decreased, the disease is still spreading," Yeddyurappa told a news conference. "Following expert advice, it has been decided to extend these restrictions until the morning of June 14," he said.
Read more – Country News | Karnataka government burns ashes of Kovid-19 in Kaveri
Although the bans were effective from April 27, the Chief Minister announced a moratorium from May 10 until the morning of May 24. However, it was later extended to June. The second Rs 500 crore Kovid relief package will provide assistance to teachers, Asha and Anganwadi workers, fishermen, film industry workers, temple priests, mosque muezzins and powerloom workers.
The Chief Minister said that more than 622.50 lakh people would benefit from the relief package. According to Yeddyurappa, Rs 100 crore has been allocated to buy milk for the livelihood of those involved in the affected dairy business due to declining demand. Teachers working in private schools without assistance will get Rs 500-500,000, which will cost Rs 100 crore from the state exchequer.
(This is a monitored and automatically generated story from a syndicated news feed, probably not edited or edited by the latest staff)