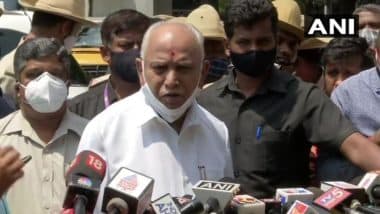 CM BS Yeddyurappa (Photo credit: ANI)
Bangalore: Chief Minister b. s Yeddyurappa (BS Yeddyurappa) said on Monday that Karnataka was considering extending the lockout period, but nothing has been decided yet. Asked about the extension of the lockdown and the announcement of the package, Yeddyurappa told reporters, "I am considering it, we will inform you … no decision has been taken yet …" Are in favor of increasing
The Karnataka government announced a 14-day initial lockdown from April 27, but later imposed a full lockdown from May 10 to 24 in view of the growing number of cases of infection.
Karnataka State Disaster Management Authority Vice-President and Revenue Minister R. Ashok said today that the lockdown is effective because the number of new cases of infection in Bangalore, Bangalore has been reduced from 22,000 to 8,000 and the period will be better. Read more: Complete lockdown in Karnataka: Karnataka government's big decision in Corona case, announces complete lockdown from May 10 to May 24
Noting that new cases of infection have come down in Maharashtra and Delhi due to the lockdown, the minister said a meeting of senior ministers led by the chief minister would be held three days before the end of the current lockdown period.
Mines and Geology Minister Murgesh Nirani said if the lockout was extended for a few more days, it would be correct on the question of increased restrictions. Sudhakar said it would be discussed at a meeting chaired by the chief minister.
(This is a monitored and automatically generated story from a syndicated news feed, most likely not modified or edited by the latest staff)