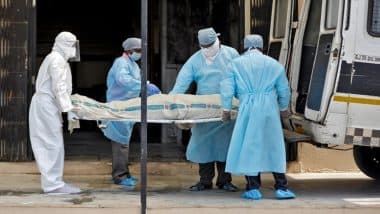 Photo credit ANI
New Delhi: Today, the effects of the second wave of corona virus (COVID-19) in the country are less visible, but the situation is still worrying. Corona's new case has come down but the death toll is alarming. In the last 24 hours, 3 lakh 42 thousand 896 cases of corona have been published in the country. During this time, 3,997 patients died. The huge number of deaths due to corona has become a matter of concern for the administration. The death toll in India's Corona does not seem to be declining anywhere. Cavid-19 vaccine: Are you going to be vaccinated? What to eat before and after vaccination? Learn expert opinions!
In Maharashtra, meanwhile, 39,923 new cases of corona have been registered in the last 24 hours and 695 people have died. 53,249 people were evacuated during this time. The total number of cases in Maharashtra is 53,09,215. The state currently has 5,19,254 active cases. A total of 9,5552 people died in the state. New cases of corona have been declining over the past few days.
Delhi 8,506 new cases
At the same time, 8,506 new cases of corona have been found in the national capital in the last 24 hours and 279 people have died. This number is the lowest in a month and the infection rate has now dropped to 12.40 percent. According to official data, the infection rate in Delhi is 11.40 per cent, the lowest since April 11.
Chief Minister Arvind Kejriwal said the ICU bed at the hospital was still full. The low number of investigations on Thursday could also lead to a drop in epidemic-related incidents in Delhi. On Thursday, 68,575 samples were tested.
Infection is also declining in UP
Corona cases are also declining in Uttar Pradesh. As of Friday, 15,747 new cases of coronavirus infection had been reported and 312 patients had died. The number of epidemic deaths in the state has risen to 16,958 with 312 patients dying due to the infection in the last 24 hours. In the last 13 days, the number of on-treatment patients in the state has come down to more than 1.117 lakh.