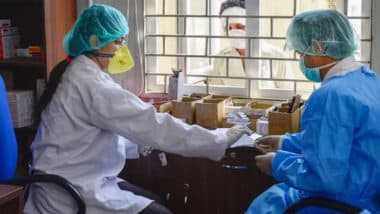 Photo credit: Twitter
Bangalore: After 517 deaths due to Kovid-19 in Karnataka on Wednesday, the death toll from the disease in the state has risen to 20,368, but 39,998 new cases have come after 20,53,191 infections. The health department said 5,92,1182 patients were still infected in the state, bringing the total number of people rescued from the infection to 14,40,621 after 34,7552 people recovered on Wednesday.
In the Bangalore urban district, 1,16,26 cases of infection have been reported and 2,275 people have died, the highest in the state. So far there have been 9,99,806 cases in the city and 8,694 deaths. 3,60,619 are still being treated here. Tumkur district had 2,360 cases of infection, the highest after Bangalore and 14 deaths here. Read more: Kavid-19: Crisis in Karnataka's Corona escalates, 4,563 new cases filed in last 24 hours, 482 people lost their lives
According to the health bulletin, there were 1,823 infections in Bellary, 1,773 in Mysore, 1,572 in Hasan, 1,223 in Manda, 1,138 in rural Bengaluru, 1,125 in Shivamogga and 1,077 in South Kannada. Besides, more than 500 cases have been registered in Bagalkot, Belagavi, Chamarjanagar, Chikballapura, Chikmagaluru, Dharwad, Kalburgi, Kodagu, Kalar, Udupi, Uttara Kannada, Vijaypura and Jadgir districts. The department said a total of 1,34,792 investigations were conducted Wednesday.
(This is a monitored and auto-generated story from a syndicated news feed, most likely not modified or edited by the latest staff)