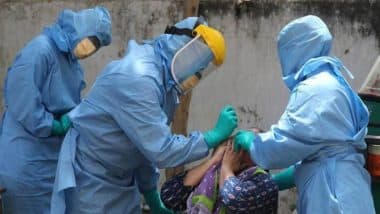 Iconic image (Photo credit: Twitter)
Mumbai: On Tuesday, there were 10,891 new cases of Kovid-19 in Maharashtra and 295 people died. 16,577 patients have been cured in the last 24 hours. The health department of the state government has informed about this. The Department of Health said in a statement that the total number of infected with new cases reached 58,52,891 and the death toll rose to 1,01,172. On Monday, there were 10,291 cases of infection in the state and 154 people died. 1 out of, 577 patients have been discharged from the hospital, so far 55,70,925 have been cured. Currently, 1,67,927 patients are undergoing treatment in the state.
According to the notification, 2,11,042 samples were tested for Covid-19 in the last 24 hours. A total of 3,69,07,181 samples have been tested in the state so far. Of the 295 deaths, 208 occurred in the last 48 hours and 87 last week. The Department of Health added 407 deaths as part of an exercise to match old statistics, all of which occurred last week. Thus a further 702 people were added dead on Tuesday. Read more: Corona Update: 1,179 grams of corona free in Nanded district of Maharashtra
Mumbai has the highest number of 6862 cases and seven deaths. The total number of victims in Mumbai is 12,05. And the death toll rose to 15,006. Mumbai has the lowest death toll since March 26. During this time 953 cases of infection came from Nasik division.