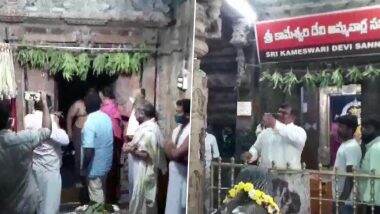 Symbolic Image (Photo Credit-ANI)
Kerala Lockdown: All major temples, including the Lord Ayyappa Temple in Sabarimala, will be closed to devotees during the nine-day lockdown implemented from Saturday morning to prevent the spread of Kovid-19 in Kerala. The Travancore Devaswom Board (TDB), which oversees the operation of more than 1,200 temples in the southern state, said on Thursday that devotees visiting its operating area would not be allowed to visit the temple during the lockdown. TDB officials said here though that the rituals related to daily worship would continue in the temples.
He said that after consultation with the chief priests of the respective temples during the lockdown, the timing of the puja-related ceremonies could be fixed from ten in the morning to ten in the morning and from five in the evening to seven in the evening. Read more: Kerala: Corona breaks all records in Kerala so far, 41,993 cases registered in a single day, 58 killed
The TDB said no festivities should be held at the temple during the lockdown, but pre-arranged wedding ceremonies could be held outside the temple in full compliance with the anti-Kovid protocol, which would include a limited number of guests.