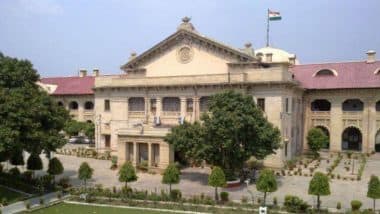 Allahabad High Court / Photo Symbol (Photo Credit: Twitter)
Lucknow: A Lucknow bench of the Allahabad High Court on Tuesday asked the Uttar Pradesh government why it was not providing medicines and food to homeless people like the previous wave of the Kovid-1 ep epidemic. The court also asked the government why it was not arranging for paramedical staff to stay after duty. Nonetheless, they are most at risk of becoming infected and being infected by family members.
A bench of Justice Rajan Roy and Justice Sourav Lavania made the remarks during a PIL hearing conducted by local advocate HP Gupta. The court also asked the government to provide guidelines in this regard as covid vaccines reduce the vaccine shortage for people between the ages of 18 and 44. Read more: COVID-19: 18,125 new cases of corona, 26,712 released in Uttar Pradesh in last 24 hours
After hearing the matter through video conference, the bench directed Additional Chief Permanent Advocate HP Srivastava to give detailed instructions on the matter.