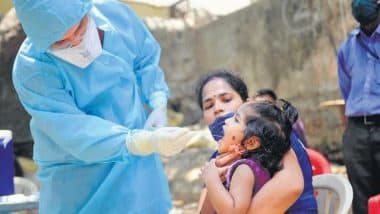 Corona Defeat (Photo Credit: PTI)
New Delhi: New Delhi: The new branch of CSIR-National Institute of Science Communication and Policy Research (NISCPR) conducted a half-day online session on CVID-19 among children on Friday. The session focused on the recent outbreak of the second wave of COVID-19 and its impact on children, hazards and protocols needed to protect children. Dr. was the chief guest of the webinar. V. Vijayalakshmi, Additional Commissioner (Academic), KVS (HQ), New Delhi and the guest speaker was Professor, Department of Pediatrics, Balaji Medical College and Hospital (SBMCH), Chennai, Member of the Executive Board (IAP) of Tamil Nadu Pediatrics 2021 Professor Dr. And. Somshekar was present on the occasion through the link provided on CSIR-NISCPR Facebook. People between the ages of 3 and 17 will get the coronavirus vaccine in China, and the emergency use of the synovac vaccine will be approved.
Dr. Ranjana Agarwal, Director, CSIR-NISCPR, in her inaugural address, 'Jigassa', a student-scientist connectivity initiative, started in mid-2013 with the aim of awakening 'scientific consciousness' among school children and making them science-oriented. To highlight the remarkable relationship between the Scientific and Industrial Research Council (CSIR) and the Kendriya Vidyalaya Sangstha (KVS) between the two great institutions. He further added that 'Curiosity' has indeed made an admirable impression not only among students, but also among scientists. He said that 'Curiosity' gives students the opportunity to interact directly with scientists and thereby inspires young minds towards innovative thinking and attitudes. This initiative is expected to yield impressive results in the long run, especially in the context of the development of science and technology beneficial to society.
Dr. V. Vijayalakshmi, Additional Commissioner (Academic), KVS said in her speech that 'curiosity' is a dream come true for students as it provides a platform to exchange views with scientists and see their work closely. This association was a huge success for his organization as it encouraged the students to get involved in various activities going on throughout the year. Dr. Vijayalakshmi said that the unprecedented COVID-19 epidemic has affected every sphere of our lives. It has passively influenced the most important social life and the psychology of children. Due to this, he was deprived of the right to play without studying even though he was with his teammates. He reminded us about how our teachers become IT-intelligent technology overnight to deal with the stress of teaching children.
Professor, Department of Pediatrics, SBMCH, Chennai and IAP KAB Member Prof. Dr. And. Somashekar has given a comprehensive keynote address entitled "Kavid-19 in Children: Danger and Caution". He said Covid-19 still has a moderate effect in children. Most of the children were incomplete and only 1-2% had to be hospitalized after being infected with the SARS-Cavi-2 virus. Dr. Somasheker nowadays warns parents about the spread of infections from adults and the growing gastrointestinal symptoms in children. He explained how COVID-19 symptoms can be detected and distinguished from other flu and common colds.
Dr. Somashekar said that except for Kovid-19 Karnataka, children in India have not been affected so far. He discussed various options for the treatment of Kovid-19 children. Continuing the session, he advised us to take some measures in our daily life: physical exercise, playing with children, avoiding foods that are harmful to health, sleeping well, wearing a mask, balanced diet and age-appropriate diet. . Most importantly, he advised to keep a close eye on the symptoms and changes in the child's behavior.
Dr. Y. Madhavi, Senior Principal Scientist, conducted the CSIR-NISCPR discussion and delivered the keynote address of the concluding session. And. s CSIR-NISCPR Chief Scientist Jayasomu offered to thank. Dr. N. Who Prasanna, Scientist, CSIR-NISCPR played a key role in successfully organizing this event. All the staff of CSIR-NISCPR played an active role in expanding the scope of this program.