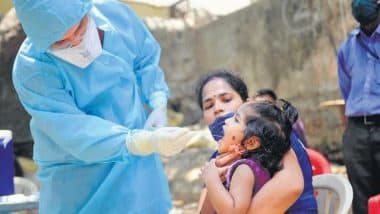 Corona Defeat (Photo Credit: PTI)
Shimla, 14 May The Himachal Pradesh anti-Kovid-19 vaccination campaign for 18- to 44-year-olds will begin on May 17. Special Health Secretary Nipun Jindal said on Friday that the state had received 1,07,620 doses of the Covishield vaccine from the Seram Institute of India, Pune for people of this age.
He said people between the ages of 18 and 44 would only be vaccinated on Mondays and Thursdays and would have to register on the Covin portal for two days. Jindal said the state has ordered more vaccines for this age group. The health official said the scheduled time will start appearing on the Covin portal from May 15 Read more: Covid-19: 33.43 lakh patients have died in new cases of Covid-19 in the country.
He said HRTC conductors and drivers, petrol pump workers, Kovid customs teachers, bank and financial service workers, chemists, Lok Mitra Kendra staff, staff and employees of child care institutions under the WCD department were involved in the vaccination campaign. The pharmaceutical industry has been declared a priority group. Meanwhile, a total of 21,08,857 people have been vaccinated in the state till May 13. 16,89,496 people received the first dose of the vaccine, while 4,19,361 received the second dose.