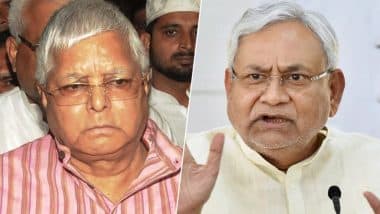 Lalu Yadav and Nitish Kumar (Photo credit – PTI)
Patna, 27 May| In this corona of Bihar, the main opposition Jatiya Janata Dal (RJD) is leaving no stone unturned to target the government. In the continuation, RJD president Lalu Prasad Yadav said that the health centers in the state are in a bad condition. At the same time, while criticizing CM Nitish Kumar, he asked him to nominate him for the Nobel Prize. Here, the JDU (JDU) hit Lalu Prasad very hard and reported the scam to Shiromani. In the era of coronavirus epidemic, Lalu Prasad is constantly questioning the government about the health system in Bihar. Read more- BJP angry over Nitish Kumar in Bihar! The 'ban' on ministers' travel is not to the liking of the Allies.
Lalu Prasad on Thursday retweeted the picture of Rakhid Kaimur's primary health sub-center, Makhkhia, block Durgavati Durgavati with his official Twitter handle, "Thousands of such health centers have been closed in Bihar (but managed in pink and spring files) of Nitish Kumar's 'failure' Contains monument ""
Lalu Prasad Yadav's tweet
To commemorate Nitish Kumar's failure, thousands of such health centers are closed in Bihar (but operated in pink and basanti files). https://t.co/h4HhguAqZl

– Lalu Prasad Yadav (@ LaluPrasadZ) 27, 2021
The people of Madhubani say that Nitish Kumar should be nominated for the Nobel Prize for closing down hundreds of such health centers in the district. https://t.co/w2wSjOJljK

– Lalu Prasad Yadav (@ LaluPrasadZ) May 26, 2121
RJD President and former Chief Minister Lalu Prasad retweeted Madhuni RJD's tweet about a sub-health center in Haralkhi block of Madhubani district, saying, "Chief Minister Nitish Kumar should be" nominated "for the Nobel Prize for closing down more than 100 such health centers. Pandey has also been claimed the Nobel Prize.
JDU leader and former minister Neeraj Kumar has retaliated after Lalu Prasad slammed the chief minister. The former minister even called Lalu Prasad a 'purged scandalous Shiromani'. Former minister Neeraj Kumar tweeted from his official Twitter handle, writing, "Now the court-sponsored scandal, Shiromaniio Bihar has started talking about healthcare and doctors instead of sticks and pens."