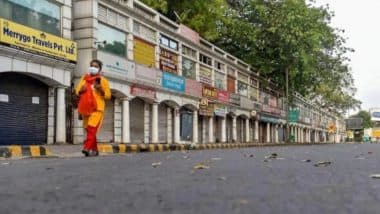 Lockdown | Photo credit: Twitter
Haryana Lockdown 31 May 2021 Extended: The second wave of the country's corona is becoming deadly for people. Haryana is also at risk in this second wave of corona. In the wake of increasing cases of corona in the state, the government announced a lockdown on May 3, which was initially for a week, which was extended to May 24 after several increases. The Manohar Lal Khattar government in Haryana has extended the lockdown restrictions till May 31 as the state does not have full control over the corona.
A meeting was held with Haryana government officials on Sunday. The meeting decided to close the state coroner's case. The Haryana government has said that the positive rate in the state has come down with the reduction in corona cases, but the epidemic alert-safe Haryana campaign still needs to continue. So, restrictions like lockdown are being extended till May 31. Read more: Lockdown in Odisha extended: Lockdown in Odisha extended till June 2011, now these stores will be open for only four hours
COVID19 prohibition under 'Protected Haryana' was extended for one week till 5 am on May 31: Haryana Government

– ANI (@ANI) May 23, 2121
According to the Haryana government, the guidelines on restrictions related to corona were issued on May 3, which will be followed further. However, some concessions have been given. Under this, shops other than shopping complexes and malls will be open all day. However, shops built on commercial premises can be open from 7 am to 12 noon. However, the mall is not allowed to open.