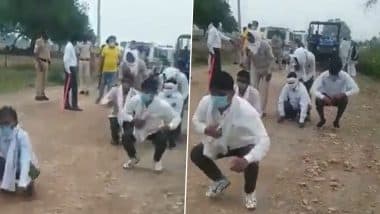 Wedding Processors Had to Jump (Photo Credit: Twitter)
Datia / Vind (MP), 20 May In Datia and Vind districts of Madhya Pradesh (Madhya Pradesh), police have punished those who violated the corona curfew for snake dancing and frog racing. At the Rajgarh intersection in Datia district, police first held a meeting during the corona curfew and then got the snake to dance as punishment for people leaving their homes unnecessarily. The policemen then realized and left him. Someone posted a video of it on social media. YS Tomar, in-charge of the Rajgarh outpost, said on Thursday that despite repeated persuasions, people were leaving their homes unnecessarily, which we were using various means to stop them. "We are also trying to persuade people not to go out of the house unnecessarily," he said. Read more- Digging a drain by JCB machine to catch a thief in Araria, Bihar, you can understand the whole thing by watching the video.
He said, "We are unnecessarily punishing people who come out of the house as punishment, to get titles, to write Ram's name, to make roosters, to beg them, to send them to temporary jail and to dance." Moti Lal Kushwaha said that on Wednesday, a fruit and groom ceremony was going on at Sultan Singh's official hostel building in Sultan Singh's village in Umri police station area, 15 km from Vind district headquarters.
Snake dance in Datia
During the corona curfew in Datia, Madhya Pradesh

Police serve snake dance as punishment for bragging# Madhya Pradesh # Lockdown2021 pic.twitter.com/xyaq2wNY32

– News24MPCG (@News24_MPCG) 20, 2021
We had to race frogs in Vinde-
In the Umri area of ​​MP-Bhind district, the Baratisis jumped on frogs by police. More than a hundred villagers came to Vind district for the wedding despite the ban on marriage throughout May. A case has also been filed against all concerned including the groom. Retweet@ Khogensingh 1 gsvasu_TNIE pic.twitter.com/uPRoAOipVY

– Anurag Singh (@unurag_nbipl) 20, 2021
He said an FIR had been lodged against groom Mukesh Jatov (resident Sultan Singh) and tent operator Rajendra Jatov for violating the coronary curfew and the program was allowed in the hostel building of the Tribal Welfare Department's dormitory. Action will also be taken against. Kushwaha said 30 to 35 people were apprehended by police and returned without warning in a tractor-trolley and ran away with a frog.