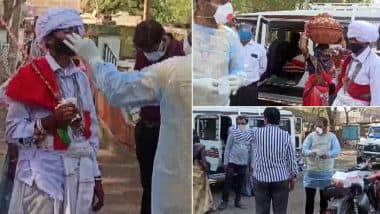 Covid test of groom and driver was positive, (Photo credit: ANI)
Bhopal, May May: Every day people are facing problems in increasing cases of coronavirus disease. Meanwhile, news is coming that even after a complete ban on organizing wedding ceremonies in some districts of Madhya Pradesh (Madhya Pradesh), some people are not gathering large numbers in the name of hawker ceremonies. One such incident came from a garden in Dhar district of the state. According to the ANI news agency, the bride and the driver of the car which brought a large quantity of barati have been found to be Kobid positive.
In the incident, police ASP Devendra Patidar said he stopped two trains of the convoy and checked everyone's antigen quickly. This time, the driver and groom proved to be coronary positive. The police then took action against them under Section 16 of the Disaster Management Act.
Madhya Pradesh: Test positive for COVID19 on the side of groom and his driver

Two vehicles carrying 'barat' were stopped in Dhar district as weddings and ceremonies were banned. The groom and driver tested positive in the team's Rapid Antigen test; Case filed: Police pic.twitter.com/Z2q0w5jYMx

– ANI (@ANI) May 7, 2021
Read more – Madhya Pradesh: Under the Chief Minister Kisan Kalyan Yojana, Tk 1,500 crore has been transferred to the accounts of 5 lakh farmers.
According to reports, the procession was going from Kabra village of Gandhwani tehsil to Pipri village of Bagh district. Following the lawsuit, a lawsuit was filed against the bride for arranging the wedding, despite the ban.
Talk about the corona epidemic in Madhya Pradesh, here today, 11,708 new cases of this deadly virus have been found in the last 24 hours. In addition, 64 people died and 4,615 were recovered. The state currently has 95,423 active cases in Corona.