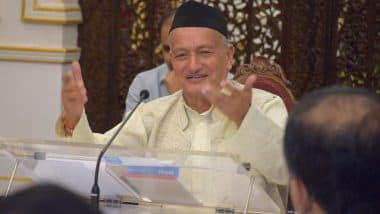 Governor Bhagat Singh Koshiari (Photo Credit: Facebook)
Mumbai: The Maharashtra Governor's Secretariat said in an RTI reply here on Saturday that the list of candidates for the State Legislative Assembly (MLC) Governor Bhagat Singh Koshiya was not available. On April 22, RTI activist Anil Gangali wanted to know the details of the list. Which was approved by the Maharashtra Cabinet in November 2020 on a question from Raj Bhavan. Galgali said, "The Governor has given the tragic information to the Secretariat that they do not have the list recommended by the State Cabinet for appointment as nominated members of the State Legislative Assembly."
He made a request for the status of the proposal submitted to the Raj Bhavan by the Chief Minister's Office, but two days ago he informed Under Secretary at the Raj Bhavan Jairam Chowdhury that he (this list) was not with him. Read more: Uddhav Thackeray to be elected unopposed in Maharashtra MLC polls, Congress withdraws candidate
"This is the first time I have appealed against this misleading information. The chief minister and other ministers have said that the list has been sent to the palace. The CMO has refused to provide the list because the governor has no comment on it," Galgali said. Different answers are being given. Why didn't Governor Bhagat Singh Koshiari take a decision on the matter for more than six months, a day after the Bombay High Court sought clarification? Hanging until now.
A division bench of Justice SJ Kathawala and Justice SP Tawdi sought a response from the state on when the governor would consider the nomination made on November 20, 2020 and decide the case. The Shiv Sena-Nationalist Congress Party-Congress ally of the ruling Mahavikas Agadi (MVA) has repeatedly in the past applied to the governor for approval of the list of nominated members.
Galgali said the Raj Bhavan or CMO should disclose the information to the public and if the governor has a list, he should take appropriate decision on the matter. On Saturday, Bharatiya Janata Party leader Ashish Shelar defended the governor, saying he would decide according to law.