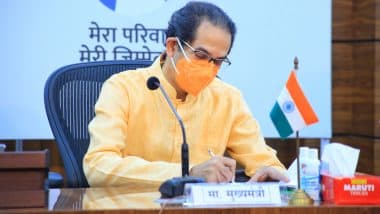 CM Uddhav Thackeray (Photo Credit: Facebook)
Mumbai: In Maharashtra (Maharashtra) the rate of coronavirus infection has slowed down. However, restrictions such as lockdowns issued in the state could be further extended. State Health Minister Rajesh Top (Rajesh Top) has hinted at the continuation of corona restrictions in Maharashtra. In Maharashtra, corona cases fell to less than 40,000 on Monday, and the death toll to more than 500. In Maharashtra, Kovid-19 has 37,266 new patients, 549 patients have died, while Gujarat has 11,992 new cases.
The forthcoming cabinet meeting, headed by Chief Minister Uddhav Thackeray, may decide on the ban in Maharashtra, the report said. It is said that the state government may continue to impose strict restrictions like lockdown in Maharashtra till May 31.
In Maharashtra, 37,236 new positive COVID-19 cases have been detected in the last 24 hours, 549 have died and 61,607 have been recovered.

Total active cases: 5,90,818

Total positive cases: 51,38,973

Total death toll: 76,398

Total recovery: 44,69,425 pic.twitter.com/iSFVnim0bE

– ANI (@ANI) May 10, 2021
Health Minister Rajesh Topp said, "If strict restrictions are lifted, the situation could get out of hand again. The government is ready to deal with the third wave. The government is also speeding up vaccination." . "The state government is emphasizing the search, tracing and treatment of Covid-19 patients to control coronary outbreaks," he said.
The Maharashtra government had imposed a national lockdown in the state from April 22 to May 1 to curb the spread of the coronavirus. However, the ban was extended until May 15 in the wake of a massive increase in infections and deaths.
A total of 3,266 new cases of Kovid-19 were reported in Maharashtra on Monday, bringing the number of infections in the state to 51,33,9733. At the same time, the death toll in the state rose to 76,396, with another 599 patients dying from the infection. In Maharashtra, 46,401 new cases of Kovid-19 were reported on Sunday, the first time in the state since April 5 when less than 50,000 new cases were detected in a single day. As of April 5, there were 47,288 new cases in the state.