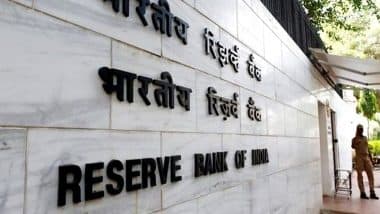 Reserve Bank of India (Photo Credit – PTI)
Mumbai: Reserve Bank of India (RBI) Pune Shivajira has also revoked the license of Vosle Cooperative Bank. The reason for this, the RBI said in a statement on Monday, is that Janbank is unlikely to have adequate capital and earnings. Regarding the revocation of the license, it has been said that according to the information provided by the bank, 99 per cent of the depositors will get full payment against their deposit from the Deposit Insurance and Credit Guarantee Corporation (DICGC).
Every depositor of liquids will be entitled to receive deposit insurance claim from DICGC up to its deposit limit up to Rs five lakh. Providing information in this regard, the RBI said that the bank does not have adequate capital and earnings potential and at the same time it does not comply with some provisions of the Banking Control Act, 1949. Read more: RBI Governor Shaktikant Das urges private banks to continue providing various financial services including public loan facilities
According to the central bank, the continuity of the bank is not in the interest of its depositors. Due to the financial condition of the bank, it will be unable to pay the full amount to the existing depositors. The bank's license revocation order has been in effect since business ended on Monday. The Registrar of Maharashtra Cooperative Societies has been requested to close the bank and issue an order for recruitment of liquids.
(This is a monitored and auto-generated story from a syndicated news feed, most likely not modified or edited by the latest staff)