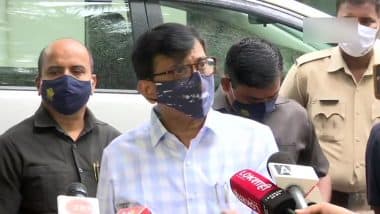 Shiv Sena leader Sanjay Raut (Photo credit: ANI)
Mumbai: Shiv Sena leader Sanjay Raut on Sunday said talks on forming an alliance of opposition parties at the national level would begin in the coming days. Raut said he had discussed the matter with NCP chief Sharad Pawar. He further said that Congress would play an important role in such an alliance. The Shiv Sena leader told reporters, "The country needs a strong alliance of opposition parties, but there can be no such alliance without the Congress party." Congress will play an important role in this, leadership can be decided through negotiations.
"Different like-minded parties in Maharashtra came together to form Maha Bikash Agradi and havdhav Thackeray was unanimously led," he said. This is an ideal alliance that is doing a good job. Read more: Sanjay Raut on TMC's victory said – Mamata Banerjee has a clear message that Prime Minister Modi and Amit Shah can also be defeated.
He said the Congress has performed well in Assam, Kerala and Tamil Nadu. However, the Congress has failed to win a single seat in West Bengal, which is not a good thing. The team needs to strengthen itself. Raut said the Congress had a presence across the country, in the opposition or in government.
(This is a monitored and auto-generated story from a syndicated news feed, most likely not modified or edited by the latest staff)