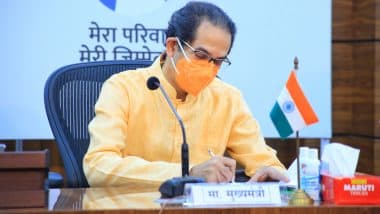 CM Uddhav Thackeray (Photo Credit: Facebook)
Nagpur: Officials in Amravati, Akola and Yabatmal districts of Bihar's Maharashtra region have said that the Kovid-19 (COVID-19) ban will be strictly enforced in the districts concerned from Sunday. Officials said the ban on disconnecting the spread of the infection would take effect on Sunday afternoon and would remain in effect until May 15. In the last 24 hours, 54,022 new cases have been reported in Maharashtra's Corona, killing 898 people.
According to the order issued by Amravati District Magistrate Shailesh Naval, grocery stores, dairies, bars, fruit and vegetable shops and bakeries will remain closed during this period, but home delivery will be from 1am to 11am. According to the order, there will be a ban on the movement of people except traffic related to emergency and necessary services.
During this time, online classes will be allowed even if schools, colleges, parks, swimming pools, tuition classes, theaters, saloons, spas, beauty parlors, sports grounds, etc. are closed. In this regard, an official said that public and private hospitals, clinics, medical stores, veterinary clinics, etc. are exempt from the restrictions.
"All government and semi-government offices will be closed except for those connected to essential services," he said. Vehicles that depart for legitimate reasons have also been asked to refuel their petrol pumps. During this time, banks and post offices will operate from 10 a.m. to 2 p.m.
Aokla District Magistrate Jitendra Papalkar and Javatmal District Magistrate Amal Yeje issued similar orders.
(This is a monitored and auto-generated story from a syndicated news feed, most likely not modified or edited by the latest staff)