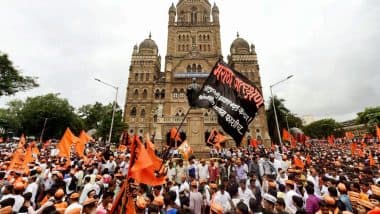 Maratha society happy (file photo)
MUMBAI: BJP MP Sambha Jiraj Chhatrapati, who met leaders of various political parties to seek support on the issue of Maratha conservation, on Monday claimed that the Maharashtra government was spying on him. A few hours later, he said the matter was closed after the state Home Minister Dilip Walse discussed the matter with him in Patil. CM Uddhav Thackeray on Maratha protection says he will continue his legal fight to get justice for the Maratha community
He tweeted, "I don't know what the purpose of keeping an eye on me might be." What will the government gain by spying on a real and sincere worker like me. "Valse Patil has denied the allegations of espionage.
"Adequate police arrangements are being made during his statewide visit to ensure that no anti-social elements can create any obstruction in Sindhudurg district," he said. I talked to him and cleared up the misunderstanding. "
Sambha Jiraj later admitted that the home minister had spoken to him and said that the policemen who had entered during the meeting of the Sindh Durg district magistrate had reached there only out of concern for their safety. He said he was satisfied with the Home Minister's explanation.
(This is a monitored and automatically generated story from a syndicated news feed, probably not edited or edited by the latest staff)