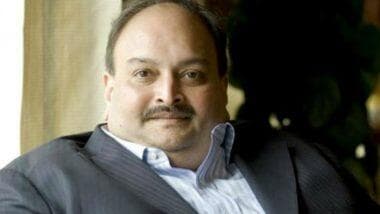 Mehul Choksi (Photo Credit: PTI)
New Delhi, May 30: India has sent a private airliner to Dominica with the extradition documents of fugitive businessman Mehul Choksi, accused in a bank loan fraud case. The Prime Minister of Antigua and Barbuda, Gaston Brown, made the remarks on a radio program in his home country. However, the Indian authorities have not officially confirmed this. A private Qatar Airways plane has landed at Dominica's Douglas-Charles Airport, the Antigua Newsroom reported. After which speculation has started about the transfer of Choksi. Choksi, who went missing from Antigua and Barbuda under mysterious circumstances, was captured by neighboring Dominica.
Brown said on Radisha's show that the plane came from India carrying the necessary documents for the extradition of Choksi. The plane left Delhi Airport at 3.40 am on May 26 and arrived in Dominica at 1.15 pm local time on the same day, according to information obtained publicly from CE ECE on Q's executive flight. Choksi alleges that Antigua and Indian-designated police members abducted him from the ports of Antigua and Barbuda and took him to Dominica. A picture of Choksi came up from Dominica where his eyes were swollen and he had scratch marks on his hands.
We respect the jurisdiction of the court in this matter. My request from the state to consider the direct deportation of Dominica Choksi to India as a form of state cooperation for the arrest of fugitives is perfectly acceptable: Antigua Prime Minister Gaston Brown

(File image) pic.twitter.com/SfhaKPYI1s

– ANI (@ANI) May 30, 2021
Read more – Mehul Choksi's lawyer reveals – he was forced to board a ship from Antigua
Choksi and his nephew Nirav Modi are alleged to have embezzled Rs 13,500 crore from the Punjab National Bank. Silent Modi is being held in a London jail and is suing for extradition to India.
Choksi took citizenship of Antigua and Barbuda in 2017 and fled India in the first week of January 2018. After that the issue of this scandal came to the fore. Both are facing CBI investigation.
(This is a monitored and automatically generated story from a syndicated news feed, probably not edited or edited by the latest staff)