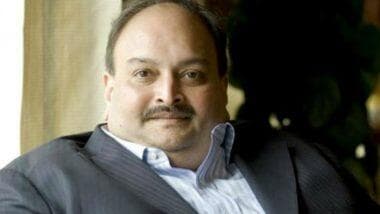 Mehul Choksi (Photo Credit: PTI)
New Delhi, May 26: India is trying to extradite fugitive diamond trader Mehul Choksi, who is accused in a Punjab National Bank (PNB) fraud case. He was captured by Dominica, his lawyer Vijay Agarwal claiming that the president of the Gitanjali group was forced to board a ship from Antigua and was taken to Dominica. He further claimed that Choksi was kept there and then taken to the police station on Monday, but his news was released on Wednesday. There are signs of force applied to his body. His comments came after the CBI and the ED demanded more than Rs 13,500 crore from Chaoksi in the PNB loan fraud case. He is reportedly in Dominica's custody.
Choksi was reported missing on Sunday from Antigua and Barbuda, where he had obtained citizenship, leading to a search for the fugitive businessman. "Lawyers in Antigua and Dominica are trying to conduct legal interviews in Dominica under the constitutional right of Choksi, but he was denied any access," Agarwal told IANS. After much effort he was able to talk to them for two minutes.
Also read- Country News. India contacts Dominica, Antigua and Barbuda to bring back Mehul Choksi: Sources
The lawyer said Choksi described his horrific experience as an eye-opener and my position confirmed that he did not leave Antigua voluntarily. Choksi says he was forced to board a ship from Jolly Harbor in Antigua and was taken to Dominica. Agarwal added that the legal team had filed a habeas corpus petition for Dominica's Choksi, denying access and highlighting the constitutional right to legal aid.
On Wednesday, Antigua and Barbuda Prime Minister Gaston Brown said the fugitive diamond trader needed to return to India for criminal charges against him.