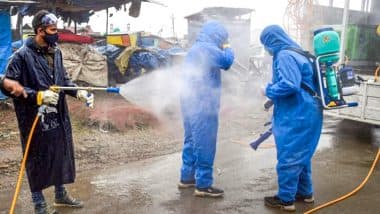 Corona She Jung (Photo Credit: PTI)
New Delhi: During the second wave of Covid-19 in May alone, there were more than 6.62 cases of corona virus in India, accounting for 31.67 per cent of the more than 26 million people still infected in the country. This has been the worst month during this epidemic. In May, the disease killed 1,124,277 people, accounting for 35.63 percent of the 329,100 deaths so far.
In May, the highest number of 4,1,186 cases of Covid-19 occurred in 24 hours and on May 19, the highest number of 4529 patients died. Since May 17, there have been less than three lakh new cases every day and less than two lakh cases are being reported in the country every day for the last four days. On May 10, the highest number of 37,45,237 patients was treated in the country. Read more: Coronavirus: Thermal screening of 12,828 passengers of 60 aircraft in India in case of coronavirus
At 9 a.m. today, according to the Ministry of Health, the lowest number of 1,52,734 people has been found in India in the last 50 days, with the number of infected people standing at 2,70,54, and the number of patients treated has dropped to 20,26,092. The epidemic claimed the lives of 31,226 patients on Monday, killing 3,29,100 people.
However, the number of recoveries was once more than the number of new cases for the 18th day in a row.
In the last 24 hours, 2,38,022 patients have overcome the infection and so far 2,56,92,342 patients have been cleared of the infection. The death rate is 1.117 percent. The treated patients accounted for .2.22 per cent of the total infection and the recovery rate stood at 91.60.
(This is a monitored and automatically generated story from a syndicated news feed, probably not edited or edited by the latest staff)