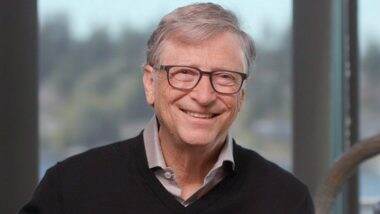 Bill Gates
The divorce of Bill Gates and Melinda Gates has now led to allegations against Michael Larson, the financial manager of billionaire Bill Gates, for showing nude pictures of women in the office. According to an extensive investigation by the New York Times, Larson, who manages Cascade Investments, created a "culture of fear" in his workplace where "employee abuse" took place. A Business Today report said Larson showed nude pictures of women to colleagues, showed her attraction to female attractive workers, made sexually inappropriate remarks on several occasions, made racist remarks and threatened others. Read more: Bill and Melinda Gates to divorce 2 years after Bill, the couple released an official statement
Also, the report noted that Larsen also threatened to hurt the share price of a company, after the female employee said she was rejoining the company after leaving Cascade. According to the report, Larson's company manages the money of Bill Gates and his ex-wife Melinda. Larson Gates invests money in hotels, stocks, bonds, farm land. As a result, Bill Gates' wealth has grown from less than 10 10 billion to বিল 130 billion. People, including four cascade employees, complained to Gates about John Larson's behavior. According to the New York Times, many also complained about Melinda.
A spokesman for Larson responded: "Mr Larson has handled more than 360 people during his tenure and there are less than five allegations against them in total. All allegations were seriously investigated and nothing was found of Larson. Meanwhile, a Gates spokesman said: Takes seriously and tries to solve them effectively to guarantee a safe and dignified workplace. BMGI does not tolerate inappropriate behavior, noting that "any issues raised with the company's history have been taken seriously and resolved appropriately."
A Melinda spokesperson said: "Melinda has strongly condemned abusive and inappropriate behavior in the workplace. She was unaware of most of these allegations due to BMGI's lack of ownership and control." "Calling BMGI a toxic work environment is unfair to the 160 professionals who make up our team and our culture," Larsen added.