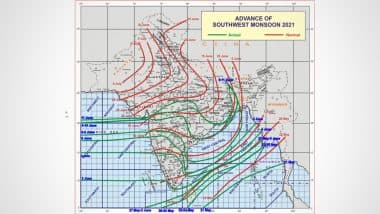 Monsoon 2021 (Photo credit: IMD)
Monsoon 2021 Last Updated: With the arrival of monsoon, good rains are falling in many parts of the country. The Indian Meteorological Department (IMD) said that the southwest monsoon today (June 11) will cover more parts of the North Arabian Sea and parts of South Gujarat, South Madhya Pradesh (June 11), Madhya Pradesh and Chhattisgarh (Chhattisgarh) and most parts of the North Bay. Most parts of West Bengal. Rains will reach all parts of West Bengal and Jharkhand in next one day: Meteorological Department
According to the latest update released by IMD, most parts of Gujarat, the rest of Madhya Pradesh, Chhattisgarh and Orissa, the whole of West Bengal, and parts of Jharkhand and Bihar and some parts of Eastern Uttar Pradesh and North Bengal during the next 48 hours of southwest monsoon conditions: Favorable to move forward.
A cyclone continues to circulate in the north-west Bay of Bengal and extends to the central troposphere. This is expected to create a low pressure area over the North West Bay and adjoining areas. Due to which very heavy rainfall with heavy to very heavy rainfall is likely in most parts of eastern India and adjoining areas of central India. Extreme levels of rainfall (20 cm) are expected in Orissa on June 11 and 12, above Chhattisgarh on June 11-13, in East Madhya Pradesh on June 13 and in Vidarbha on June 12 and 13.
The south-west monsoon has extended to some parts of the North Arabian Sea and parts of South Gujarat, South Madhya Pradesh and Chhattisgarh and most parts of North Bay and some other parts of West Bengal today till June 21, 221. pic.twitter.com/dnzzaGKEQD

– India Meteorological Department (@sindiumdetpet) June 11, 2021
Due to the strengthening of westerly winds along the low pressure areas along the west coast, the coastal districts of Maharashtra have continued to receive heavy to very heavy rainfall with heavy to very heavy rainfall till June 15. Where, between 12 to 15 June, there may be heavy rainfall with heavy to very heavy rainfall across coastal Karnataka. And scattered heavy rains are expected in Kerala between June 12 and 15. Also, individually very heavy rainfall is likely to be in Konkan from 12 to 15 June.
Due to the west-northwest direction of the low pressure region, the Meteorological Department has forecast isolated heavy rainfall in north-western India (excluding Rajasthan) from 12 to 14 June. Rainfall forecast for one or two places in Rajasthan. In addition, heavy rains are expected in Uttarakhand and Uttar Pradesh on June 12.
Before the onset of monsoon, Madhya Pradesh, Uttar Pradesh, Uttarakhand, Chhattisgarh, Orissa, Bengal, Jharkhand and Bihar are likely to experience thunderstorms with continuous clouds. The maximum temperature is not likely to change significantly in the plains of northwestern India right now, but it is likely to drop to 2 to 4 degrees Celsius in the next 24 to 48 hours.