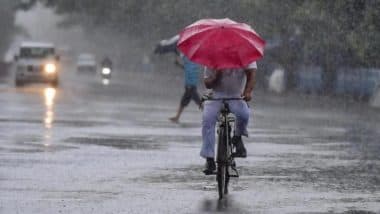 Rain | Iconic image (Photo credit: PTI)
New Delhi: The Indian Meteorological Department (IMD) on Sunday said that the southwest monsoon (monsoon 2021) will extend to parts of the Central Arabian Sea, parts of Maharashtra, parts of Karnataka, parts of Telangana, parts of Tamil Nadu and parts of Andhra Pradesh. The Bay of Bengal and most of the northeastern Bay of Bengal, today in most of the northeastern states of India – Nagaland, Manipur, Mizoram and Tripura, Assam and Meghalaya, Arunachal Pradesh, Sub-Himalayan West Bengal and Sikkim, advanced to June 06, 2021. Monsoon 2021 Update: Monsoon continues in South India, Maharashtra, the state is likely to receive heavy rainfall
The IMD said that heavy to very heavy rains are likely in the northeastern states and adjoining eastern India in the next 4-5 days due to south-westerly winds and a cyclonic storm across sub-Himalayan West Bengal and the surrounding low-lying areas. Probably. As a result, heavy rainfall is expected in Arunachal Pradesh, Assam and Meghalaya and sub-Himalayas, West Bengal and Sikkim in June and June, and in Nagaland, Manipur, Mizoram and Tripura.
Most likely the southern peninsula India and parts of the west coast with isolated heavy rainfall today, 06 June 2021.

Strong surface winds (25-35 km / h) are likely to spread over the plains of north-west India by 08 E-10 June.mandmaindia pic.twitter.com/VEKpdhWxhf

– India Meteorological Department (@sindiumdetpet) June 6, 2021
Thunderstorms with heavy rainfall are likely to occur from the North Maharashtra coast to the North Kerala coast at sea level and the impact of a cyclone flow over the lower tropical levels above Konkan and Goa.
At the same time, Orissa is likely to receive heavy to very heavy rainfall on June 8 and 9, Gangetic West Bengal on June 10 and Orissa on June 10. Strong ground wind speeds of 25-25 kmph are most likely in the plains of north-west India from 08 to 10 June.
It is noteworthy that a low pressure area is likely to form in the Bay of Bengal by June 11. It is expected to support the progress of the monsoon and move towards parts of Orissa, Jharkhand, West Bengal and Bihar. The rains will reach here by June 15.
Meanwhile, it is raining in many parts of the country, including northern India. The monsoon reached Kerala on June 3, two days late. The IMD has forecast normal rainfall in June. Where more than normal rainfall is forecast for the entire monsoon season.