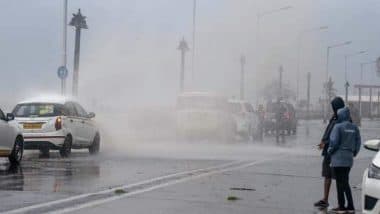 Rain | Symbolic image (Photo credit: PTI)
The Indian Meteorological Department (IMD) said rains could reach Kerala, Lakshadweep, parts of Tamil Nadu, Puducherry, coastal and southern inner Karnataka by Saturday. According to a report in the Hindustan Times, the IMD said that today and tomorrow the south-west monsoon is expected to continue in the rest of the South Arabian Sea and parts of the Central Arabian Sea, the rest of Kerala, Lakshadweep, parts of Tamil Nadu, Puducherry. Coastal and it is likely to move further to southern Karnataka, Rayalaseema and the southern and central Bay of Bengal. Weather update: IMD has said a big thing about monsoon, there may be more rain than usual in north-south and central India.
Let us know that after a two-day delay, the south-west rains lashed Kerala on Thursday, triggering a four-month monsoon in the country. IMD Director General Mrityunjaya Mohapatra said, "South-west rains have lashed the southern part of Kerala."
As soon as the monsoon started in Kerala, there was heavy rain in some places. Meanwhile, the IMD has issued 'yellow alerts' for eight districts – Pathanamthitta, Alappuzha, Kottayam, Ernakulam, Idukki, Kozhikode, Kannur and Kasargod. There is a possibility of heavy rain in these districts.
According to the India Meteorological Department (IMD), the rains came two days later than the June 1 normal schedule. This is the third time in the last six years that the monsoon has come late. Earlier in 2016 and 2019, the south-west monsoon made landfall in Kerala on 8 June.
Chance of rain in this state
The Meteorological Department said rains are likely in the northeastern state in the next five days due to strong south-westerly winds. Heavy rains are expected in isolated parts of Arunachal Pradesh from Friday to Sunday.
It is also likely to rain in Assam and Meghalaya from Friday to Monday and in Nagaland, Manipur, Mizoram and Tripura on Saturday and Sunday. In addition, scattered rains and strong winds are expected in the adjoining plains of north-western India.