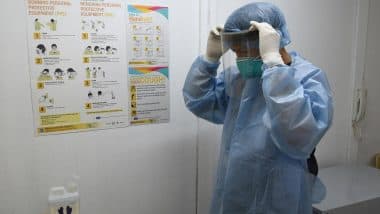 Corona virus eye symbolic image (Photo credit: AFP)
New Delhi: Demand is the cause of innovation. For Mumbai (Mumbai) student inventor Nihal Singh Adarsh, the need for his doctor mother has become a source of inspiration for his discovery of the 'cool' PPE kit. A compact and frugal innovation called 'Cove-Tech', a ventilation system for PPE kits, provides the necessary relief for health workers on the Coveid-11 war front. Corona update: 2.40 lakh new cases in Corona in India, 3,7441 patients die
Nihal, KJ Somaiya College of Engineering (KJ Somaiya College of Engineering) 'S student. He told Koro-Warrior about Cove-Tech's experience. Nihal said, "The Cope-Tech ventilation system lets you sit under the fan while you're inside the PPE suite. It takes in the air around it, filters it and pushes it into the PPE suite."
"Typically, due to the lack of ventilation, this PPE suite is warm and humid. Our internal static air flow provides a way out of this uncomfortable experience."
Nihal said the design of the ventilation system ensures complete sealing with the PPE kit, providing fresh air to the user in just 100 seconds.
Explaining in detail how the cooling PPE kit was invented, Nihal said that he had created it only to relieve his mother Dr. Poonam Kaur Adarsh, a physician and the Kovid-19 patient he is treating at Punya Adarsh ​​Clinic. He runs this clinic himself.
Nihal, 19, said: "Every day after returning home, he would talk about the hardships people like him had to wear PPE suits and sweat. I think the idea of ​​him and others like him came to help people."
Problem detection led him to participate in a design challenge for covid-related equipment organized by the Technician Business Incubator Research Innovation Incubation Design Laboratory.
The design challenge prompted Nihal to work on the first prototype. Nihal made the first model in 20 days under the direction of Dr. Ulhas Kharul of the National Chemical Laboratory, Pune.
Dr. Ulhas runs a start-up that is researching a membrane to filter the air, aimed at preventing the spread of Covid-19. From this Nihal got the idea of ​​what kind of filter he should use.
Nihal later received support from the Research Innovation Incubation Design Laboratory (RIIDL) of Somaiya Bidbihar University, supported by the National Board of Science and Technology Entrepreneur Development (NSTEDB) under the Department of Science and Technology, Government of India.
The initial prototype emerged after six months of hard work. It had a pillow-like structure that could be worn around the neck.
Nihal gave it to Dr. Binayak Manak from Pune to test, who said it would be a big problem for the healthcare workers wearing the neck, as the device emits constant noise and vibration.
"Therefore, we have abandoned the prototype and started working on more designs." Nihal said he has continued to try new designs aimed at creating prototypes that in no way hinder the work of healthcare workers.
This desire for perfection led to the development of about 20 developing prototypes and 11 agaronic prototypes until the final product was released.
For this, Nihal enlisted the help of Gouranga Shetty, Chief Innovation Catalyst of RIIDL and CEO of Dassault Systems, Pune. Sophisticated prototype facilities in Dassault systems helped Nihal to develop prototypes efficiently and easily.
According to the final design, the product can be worn around the waist like a belt. It can be combined with traditional therapeutic PPE kits. This design serves two purposes – it keeps health workers well-ventilated, prevents physical discomfort and protects them from various fungal infections.
Since the ventilator is close to the body, high-quality material has been used and safety measures have been taken care of. Care Nihal explained, "The system comes with a lithium-ion battery that lasts for 6 to 8 hours."
Nihal was also assisted in the project by W Twik Marathi, a second year student of Design Engineering, and his batchmate Sayali Bhavsar. Nihal said that his initial ambitions were nothing more than alleviating his mother's pain.
"I never thought of starting professionally. I just thought of making it on a small scale and giving it to physicians personally."
"But later, when we made it possible, we realized that the problem is so big that our healthcare workers face it on a daily basis. That's when we thought of creating a business plan that would make it available to everyone." Sneha Hospital in Pune and Lotus Multi Specialty are being used.