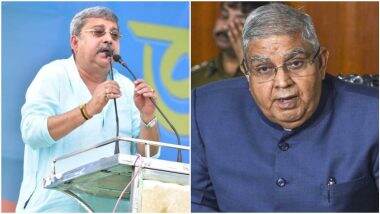 TMC MP Kalyan Banerjee and Governor Jagdeep Dhankar (Photo credit: FB / PTI)
The Narad sting case has sparked uproar in state politics after the arrest of two senior West Bengal ministers and others. Trinamool Congress (TMC) MP Kalyan Banerjee (Kalyan Banerjee) said that we are going to court. As you know, during the hearing on COPID-19, the Supreme Court ruled that the police cannot take anyone into reckless custody, they can arrest them. Despite this, the CBI and the police (our members) have been arrested. He said the governor had retaliated without consulting the state government. Read more – West Bengal: After the investigation into the Narda sting case, TMC's commotion, leaders and activists are throwing stones outside the CBI office.
TMC MP Kalyan Banerjee said the governor has turned blood into fat. He is now trying to get a ticket from the BJP before the 2024 elections, so he is doing whatever he wants against the TMC. He said the governor was then and blood fat. He should not stop here even for a minute. Wandering around like a mad dog.
ANI's tweet
We are going to court. You know that the SC gave a verdict during COVID-19 that the police cannot make arbitrary arrests, can arrest anyone. Despite this, CBI and police have been arrested (our members): 4 TMC leaders have been arrested by CBI. pic.twitter.com/pzyTrKJSyz

– ANI (@ANI) May 17, 2121
This governor is significant and a bloody one. He shouldn't be here for a minute. He is wandering around like crazy here: TMC MP Kalyan Banerjee

– ANI (@ANI) May 17, 2121
In fact, the CBI on Monday arrested former party leader Shovan Chatterjee and TMC leaders Farhad Hakim, Subrata Mukherjee and Madan Mitra in Kolkata in the Narad sting case. The Narad Sting case alleges that some politicians took money. The CBI had approached West Bengal Governor Jagdeep Dhankhar to approve the trial of Hakim, Mukherjee, Mitra and Chatterjee. They were all ministers at the time of the alleged crime in 2014.
Dhankar had approved the case against the four leaders, after which the CBI was preparing its chargesheet and all of them were arrested. Meanwhile, party supporters gathered in large numbers outside the CBI office in Kolkata to protest the arrest of TMC leaders. Chief Minister Mamata Banerjee also reached the CBI office. Trinamool Congress supporters were hoisting flags here and chanting slogans against the CBI and BJP-led NDA government at the Center.