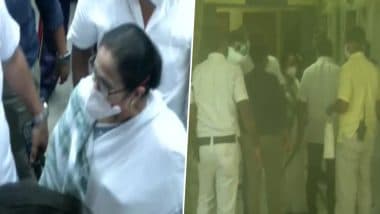 Mamata Banerjee (Photo Credit: ANI)
Kolkata: Trinamool Congress (TMC) ministers and a MLA and former leader have been arrested by the Central Bureau of Investigation (CBI) in the Narda scam 🙂 tape case, taken to the Presidency Correctional Home in Kolkata late Monday night. Sources close to the Central Investigation Agency said. Ministers include Subrata Mukherjee and Farhad Hakim, Trinamool Congress MLA Madan Mitra and former leader Shovan Chatterjee.Shovan Chatterjee) Was taken into custody under tight security from the CBI office at Nizam Palace after a medical examination. Narad sting case: 4 Trinamool Congress leaders granted bail by court, CBI arrested today
The families of the four leaders were present outside the jail when they were taken inside. "I have full faith in the judiciary," Hakim Nizam said outside the palace. The BJP can use anyone to harass me. At this time, the vision of the Chairman of the Board of Governors of the Calcutta Municipal Corporation was wet. He said that at this time of the epidemic he could not serve the people of Calcutta.
Mitra said, "We are all bad except Mukul (Roy) and Shuvendu (Adhikari)." Roy and the officers also accused in the case who were not arrested. He was a grassroots leader during the sting operation but is now a BJP MLA. Chatterjee said, "I am not a robber. I did nothing wrong as the CBI entered my bedroom to arrest me." The four leaders were arrested on Monday morning.
The CBI has also filed chargesheets against the leaders arrested in the Narad sting tape case. Although the special CBI court granted bail to the grassroots leaders in the case, the Calcutta High Court stayed the execution of the special court's order. A bench of the High Court said during the hearing of the case that it would be appropriate to stay the order of the special court. The court has directed to send all the accused to judicial custody till further orders. In 2014, Matthew Samuel of the Narda TV news channel carried out an alleged sting operation in which Trinamool Congress ministers, MPs and legislators were accused of taking money from representatives of an organization in exchange for profits.
(This is a monitored and automatically generated story from a syndicated news feed, most likely not modified or edited by the latest staff)