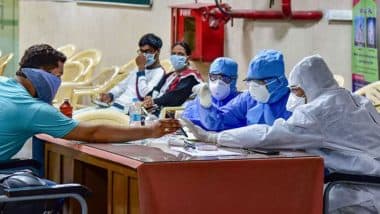 Corona Virus War (Photo Credit: PTI)
New Delhi: During the Coronavirus period, the countrymen showed indomitable courage and patience, only then we were able to fight this war. However, there are many people who are struggling with various health problems during the epidemic. To help such people, the central government has issued a helpline number, on the basis of which people can call for free and get a solution. Corona vaccination: Central government instructs states to stop vaccination in private hospitals
The Ministry of Information and Broadcasting has released all the numbers and issued consultants to raise awareness about the national helpline number to the maximum number of people. All the national helpline numbers have been created and promoted by the government in the interest of the citizens of the country.
You can call these numbers
1075- National helpline number of the Ministry of Health and Family Welfare
1098- Child Helpline number of the Ministry of Women and Child Development
14567- Senior Citizen Helpline Number, Ministry of Social Justice and Empowerment, (NCT Delhi, Karnataka, Madhya Pradesh, Rajasthan, Tamil Nadu, Telangana, Uttar Pradesh and Uttarakhand)
08046110007 — Nimhans helpline number for psychological support
You can call these numbers for kids
Earlier, the government released helpline numbers for children during the Covid period. Exciting tele-counseling has started under this. It provides emotional support to children by relieving stress, anxiety, fear and problems especially during epidemics.
The service is available Monday to Saturday from 10am to 1pm and from 3pm to 8pm on toll-free number 1800-121-2830. This service is especially for children who want to talk and who need advice. When a child, caregiver or parent contacts Sensation 1800-121-2830, professional counselors are provided in their safe environment.