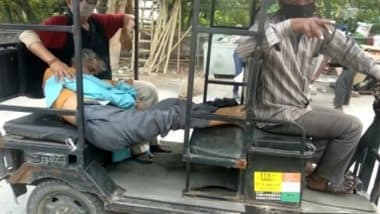 New Delhi (Photo credit: ANI)
New Delhi: The coronavirus epidemic has started a fight for the health system on the one hand, and the situation is that an ambulance is not available to take the bodies to the crematorium. If your nearest dead body is also an e-rickshaw, what would you say about that helplessness and pain (E-rickshaw) To carry? Delhi: Restaurant owners are waiting for the ban to be lifted due to the lockdown.
Pawan, a 40-year-old resident of Delhi's Shastri Park, died on Thursday evening due to ill health. The victim's wife Lakshmi and his brother Balaram drove him to a local hospital, but he was pronounced dead. Due to lack of financial condition of the family and lack of information, the body of the brother was forced to be taken to the crematorium by e-rickshaw from the hospital.
Balaram Sharma, brother of the deceased, told IANS, "Someone standing outside the hospital asked for an ambulance. But he said that such an ambulance is not available. You just take the body by e-rickshaw. One and a half rupees from us to the ghat."
On the other hand, Lakshmi, wife of the deceased, told IANS, "My husband fainted around 4 pm on Thursday. My husband was undergoing treatment due to his pre-existing mental condition. Suddenly there was a heart attack, we told him. Local Jag Prabhas took him to Chandra Hospital."
"On arrival at the hospital, the doctors declared him dead. After that, he did not bring his body home, but took it directly to the crematorium."
In reality, there was no one to work due to the lack of many people in the family, as well as there is an old Mao at home who loved his son very much, if the family arrives home with the corpse, the mother's health may deteriorate. Due to this concern, the body of the deceased Paban was taken directly from the hospital to the crematorium.
Lakshmi, the wife of the deceased Paban, worked in a garment factory but was forced to stay at home as everything was shut down during the epidemic. Lakshmi also has two young daughters, aged 11 and 3.
Balaram, the brother of the deceased, added, "The people present at the Nigambodh crematorium helped us a lot with our brother's body, and we did our funeral for free. Because I used to make purses at home. .
Sunil, who was running the AGO at the crematorium, and a few of his associates helped Balam's brother perform his last rites for free, not only that, but also bought all the things used in the ritual.