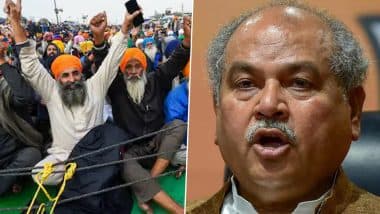 Farmers and Agriculture Minister Narendra Singh Tomar (Photo Credit PTI)
New Delhi: The farmers' movement for agricultural law has been going on for more than 6 months. However, there have been several discussions between the government and the farmers. However, due to lack of middle land, the farmers' movement is dragging on. In such a situation, the farmers want the government to talk about their demands once again. On Wednesday, Union Agriculture Minister Narendra Singh Tomar said the government was ready to resume talks with the protesting farmers. However, they came to the government with strong arguments and said that there are objections.
Meanwhile, Indian Black Union leader Rakesh Tikait arrived in West Bengal on Wednesday in support of their demand. Arriving there, he met CM Mamata Banerjee. During the meeting, he discussed various issues related to agriculture and local farmers. After the discussion, CM Mamata Banerjee also assured Tikait that she had his support in the peasant movement. Read more: Farmers protest: Rakesh Tikait meets West Bengal Chief Minister Mamata Banerjee, assures farmers leaders to support movement
The Congress has also started attacking the government once again on this issue. Randeep Surjewala, chief spokesperson of the party, said in a statement, "Farmers need justice without begging. Farmers need rights, not arrogance. Come down from the throne of arrogance and give up arrogance. The only way is to end the three black laws. On the other hand, Shiromani Akali Dal president Sukhbir Singh Badal called for unconditional talks with the agitating farmers demanding repeal of the Centre's agriculture law.
Let us know that there have been about 11 points of discussion with the farmer leaders and the Center on the repeal of the Agriculture Act, where the last discussion was held on 22 January. However, in all these discussions, the government has agreed to accept some of their demands. Their demand on behalf of the farmers, however, is that the whole law should be repealed, but the government is not ready to accept it. The government is only talking about amending the law.