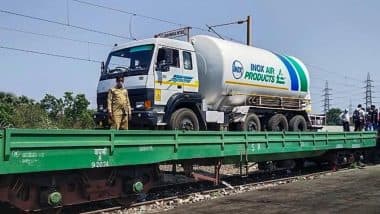 Photo credit: PTI
Tankers and containers carrying medical oxygen on national highways will no longer have to pay toll tax. Due to the Kovid-1 ep epidemic, such vehicles have been exempted from toll plazas to meet the unprecedented demand for medical oxygen across the country. Until later, this exemption has been given considering the medical oxygen carrying containers like other emergency vehicles like ambulances. Although the waiting time has been reduced to almost zero after the fasts at the toll plaza came into effect, the National Highway Authority of India (NHAI) is already providing uninterrupted access to such vehicles for faster transport of medical oxygen. Read more- Supreme Court's big step in corona epidemic, to form national task force for better oxygen allocation.
It also instructed all NHI officials to assist in public and private efforts to combat the epidemic, so that they could be actively assisted. Due to the prevalence of Covid-19, there has been a huge demand for liquid medical oxygen across the country.
Timely delivery of liquid medical oxygen to hospitals and medical centers to save the lives of critically injured patients of Kovid-19 during this ongoing crisis.