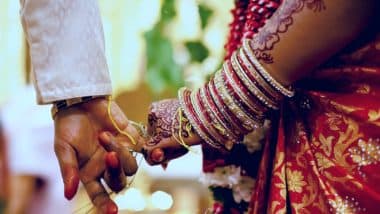 Wedding / Symbol Pictures (Photo Credit: Instagram)
Chennai, June 1: The Madras High Court has warned young couples that husbands and wives must understand that 'arrogance' and 'intolerance' are like shoes that should be thrown out before pping at home, otherwise their children will have to live a miserable life. Justice S Vaidyanathan also reminded the youth that marriage is not a contract, it is a sacred bond. He added that although the Domestic Violence Allowance Act, 2005 recognizes coexistence (live-in-relationships), sacred bonds have no meaning.
The court said there is no provision like the Domestic Violence Act for a husband to file a case against his wife for making a false accusation. The court observed this while granting permission to the petitioner, Dr. P. Sasikumar. The petitioner challenged the order of removal of the Director of Animal Husbandry and Zoology on February 18, 2020 and requested for his reinstatement with all facilities.
Also read- Country News. Some sections of society oppose Kovid-19 vaccine: Madras High Court
According to Sasikumar, he was fired for engaging in domestic affairs and his ex-wife filed a complaint against him. Judicial Magistrate and Additional Women Court of Salam, ex-wife, initiated divorce proceedings against the petitioner under the Domestic Violence Act. The petitioner also made a similar application before the First Additional Deputy Judge of Salam.
The family court of the applicant for the application for divorce was accepted and it was final. The petitioner made the grounds for the cruelty of the wife and for giving up on her own will. While waiting for the decision of the family court, the wife filed a complaint against the applicant and on that basis he was removed from the job.
Also read- Country News. Madras High Court remarks against Election Commission not part of judicial record: Supreme Court
Justice Vaidyanathan said that the family matter had already been settled by the order of the family court on February 19 last year, now the wife's cruelty and willingness to leave the husband when the question of departmental penal action against the petitioner did not arise. Is not raised. Let's clean it up.
(This is a monitored and automatically generated story from a syndicated news feed, probably not edited or edited by the latest staff)