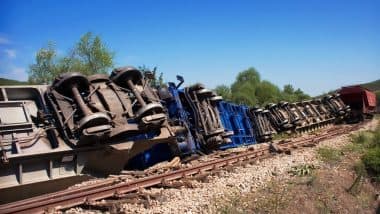 Train Accident (Photo: Wikimedia Commons)
Karachi, June 2: At least 51 people were killed and 100 others injured when a train collided with an express train in Pakistan's southern Sindh province on Monday morning. In the aftermath of the crash, one of the country's worst train accidents in recent years, authorities have called on the military and paramilitary forces to assist in challenging rescue and relief work. A Pakistan Railways spokesman said the Sargodha-bound Millat Express from Karachi derailed and fell on the front track, causing a head-on collision between the Sir Syed Express from Rawalpindi to Karachi. The boats of Millat Express overturned due to the collision. The accident took place near Dharki town in Ghotki district of Sindh. A state of emergency was declared at Ghotki, Dharki, Obero and Mirpur Mathelo hospitals after the train accident. The injured have been taken to hospital here.
Ghorki Deputy Commissioner Usman Abdullah was quoted by ARY News as saying that 51 people, including some railway officials, were killed and more than 100 injured in the accident. Geo News quoted police and rescue officials as saying that more than 45 people had been killed and more than 100 injured in the crash. Regarding the train accident, Pakistan's Prime Minister Imran Khan said he was "shocked by this horrific train accident." He tweeted, "I am shocked by the horrific train accident in Ghotki today. The Railway Minister has been asked to reach the spot and provide assistance to the families of the victims and medical aid to the injured. Aijaz Shah, the driver of the Sir Syed Express train, said he was rescued by locals two hours after the trains collided. He said the train was moving at normal speed after seeing the derailed bogies of Millat Express. The distance was short, so this collision happened. Read more: Pakistan train accident: Major accident in Pakistan, 30 killed in two train collisions
Ghotki Deputy Commissioner Usman Abdullah told Geo News that 13 to 14 bogies were derailed and six to eight bogies were completely damaged in the accident. He said, "Rescuing the passengers trapped in the carriage has become a challenge for the rescue officers. Heavy machines will be used to rescue those who are still trapped and this work will take time. We are also conducting medical camps to provide medical assistance to the people." A relief train has also been dispatched, with officials saying the two trains had more than 1,000 passengers, a railway spokesman said, adding that about 20 passengers were still trapped in some damaged carriages, which overturned and were damaged. Collecting information from passengers and crew aboard the train. "Heavy machines are needed to clear damaged bogies, so rescue work will take some time to complete," he said.
Meanwhile, Sindh Chief Minister Murad Ali Shah has expressed grief over the loss of life in the accident and directed the Sukkur commissioner to activate the district administration, Dawn News reported. He asked the officials to provide temporary accommodation and food and water for the passengers. Pakistan Rangers personnel also reached the spot to assist in the rescue and rescue operation. The army's media force 'Inter-Services Public Relations' was told that army doctors and ambulances were assisting in the rescue operation. Army engineers and expert teams are being flown in from Rawalpindi to assist in the rescue operation. He said two helicopters had left Multan, relief materials were also being prepared and would be delivered soon. Read more: Pakistan train accident: 30 killed, 50 injured in collision between Sir Syed Express and Millat Express in Sindh
Authorities have announced a budget of Rs 1.5 million for the next of kin of those killed in the accident, Geo News reported. The injured will be compensated from one lakh to three lakh rupees. A senior former railway official said that the rail network in Pakistan is very old in many places, which is the cause of such accidents. He said that in many places the tracks that were laid before partition were being operated.